Social Meditation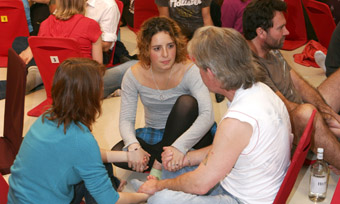 Incidental music: "No Boundary Featuring Kayo" from the album: "Our Sacred Earth" from Veeresh and the Humaniversity Sound
Next  to the AUM Meditation Veeresh created also some other structures with the appropriate music. He calls all of them "Social Meditations".
The definition of "social" is : together – in common with others – companionably
We offer following Social Meditations:

•  Friendship Meditation
•  Peace Meditation
•  Samasati Meditation
•  Our Sacred Earth Meditation
•  Dance Meditation
•  Love Meditation
•  Power Shaking

Social Meditation – an innovative approach

Take a timeout from your daily routine and do something just for yourself.
The possibility to meditate, to relieve stress, to relax and to refill your batteries is more and more accepted in our society. Just that most of the people associate this with sitting cross-legged in persistently silence.
Veeresh has found a new, refreshing and juicy way of meditating together.
His Social Meditations are his contribution to the world of meditation, developed from his longtime therapeutic work with people.
We will bring you back to the HERE and NOW in a very playful, charming and joyful manner – just by meditating together with others.
Social Meditations include dancing, meeting others and emotional self-expression. These activities feed the spirit and the body. They lead in a natural way to a state of silence and meditation.
Through the other participants you recognize yourself and your inner being.
Refresh your life, allow yourself a new swing and meet new friends.


We offer every now and then one of the above mentioned Social Meditations